There are many questions that arise while creating your wedding invitations. From, "how do I say we don't want kids to come?!" to "what if we're only having a reception?" you're sure to stumble across a few moments that'll stop you in your tracks and have you contemplating how to politely communicate key pieces of information to your wedding guests.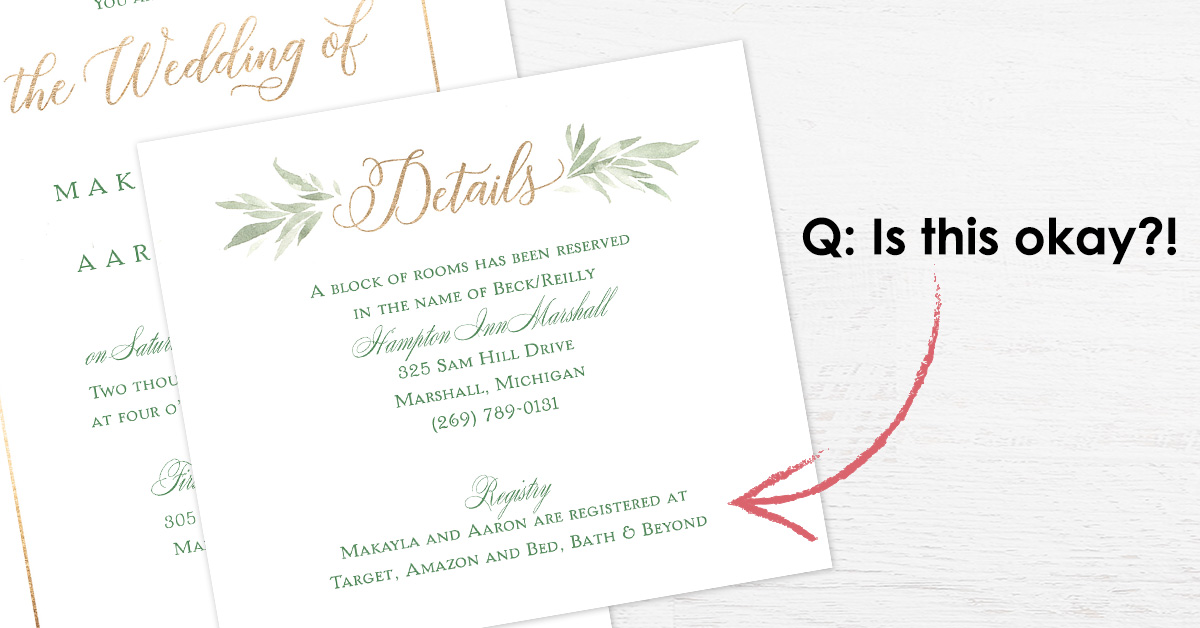 There is one question we hear more than any other – "Can we include our wedding registry information on our invitations?" The answer to this question is always (always, always, always), no.
But, why? Whyyyyy? This is the most common response we hear from brides and grooms and hey, we get it. After all, your guests will want to provide a gift to the happy couple, right? So why wouldn't you want to give them the information they need so they can get a gift you actually want?
The reason is simple: you aren't inviting to your wedding for the gifts. Don't make your guests question for a moment that you might be.
Guests who want give a gift will find their way to your registry. And, you can help them get there through these appropriate means.
Your Wedding Website
Your wedding website should be full of extra information for your wedding guests such as travel information, hotel blocks and yes, your wedding registry. Add a section with links to your registry and include a sweet message that makes it clear that you're not after a gift grab. For instance:Our Registry
While your generosity is so appreciated, please know that your support and love are the best gift we could wish for!Registry Information
Your friendship and love is the best gift of all.

Your Bridal Shower
Unlike your wedding, the intention of your bridal shower is to, well, SHOWER the bride with gifts! It's absolutely appropriate for the host to list your registry information on your bridal shower invitations. The scoop on where you're registered will naturally spread from your shower guests to your wedding guests, trust us!
Word of Mouth
Never underestimate the power of chatter. Traditionally, this was the only way to communicate registry information. Trust in the power of people to find the info they need. Also, trust in the power of group texts.
xoxo –the Team at Ann's