Assembling and addressing your wedding invitations are no easy tasks. Here are brief guides to help you tackle each of these important steps in the invitation process.
Assembly in 5 Easy Steps
1. Insert the wedding invitation into the inner envelope (if applicable). The printed side of the invitation should face you.
2. Place the reception card in front of the invitation with printed side up.
3. If you're including other enclosures, like direction cards or accommodation cards, place them in front of the reception card printed side up.
4. The respond card is next. This card should be tucked under the flap of the respond card envelope, printed side up. Be sure to place a stamp on the envelope. Then place the card and envelope in front of the enclosures mentioned in step 3.
5. Once you have all the pieces assembled in the correct order, slide the inner envelope into the outer envelope with the front of the inner envelope facing you. If you don't have an inner envelope, tuck the stacked invitation pieces into the outer envelope with the printed sides facing you.
Addressing the Situation
What are inner envelopes?
The inner envelope is still a common part of the wedding invitation ensemble, but has become a more traditional/formal element. Its purpose is to hold the invitation and all the enclosures together within the main envelope. The inner envelope is slightly smaller and has no adhesive on the flap. You will find many of today's wedding invitations don't include an inner envelope option.
How are inner envelopes addressed?
If your invitation includes an inner envelope, it will be addressed with the names of each guest. You may address inner envelopes formally or informally, as shown below. If you are allowing single guests to bring a date, add "and guest" or the guest's first and last name. If children are invited, write the children's first names under their parents' names.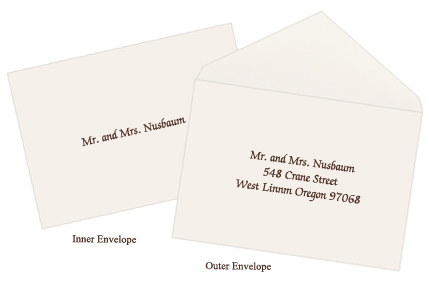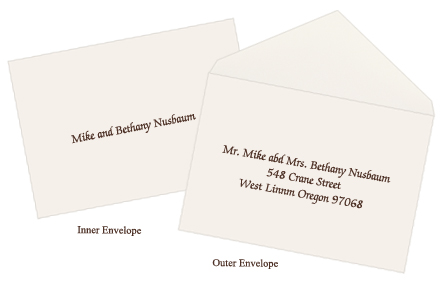 What are outer envelopes?
The outer envelope holds the entire invitation. It includes an adhesive flap for sealing and is addressed for mailing. Almost all wedding invitations come with outer envelopes.
How are outer envelopes addressed?
Outer envelopes are normally addressed in a formal manner, meaning titles and last names. No abbreviations are used except for titles, such as Ms., Mrs., Mr., and Jr. That means all words in the address are spelled out (St. would be Street, Blvd. would be Boulevard, etc.) Sound like a lot of work? It is! So order your invitations early to give yourself some time or take advantage of Ann's

envelope-addressing service

.