Seal and sends are a unique combination of style and convenience, resulting in affordable wedding invitations you'll be proud to send to family and friends. However, we understand the hesitation in choosing something a little different for such an important occasion. So we've put together an explanation of what seal and sends are and how they work to help you feel at ease should you decide these invitations are right for you.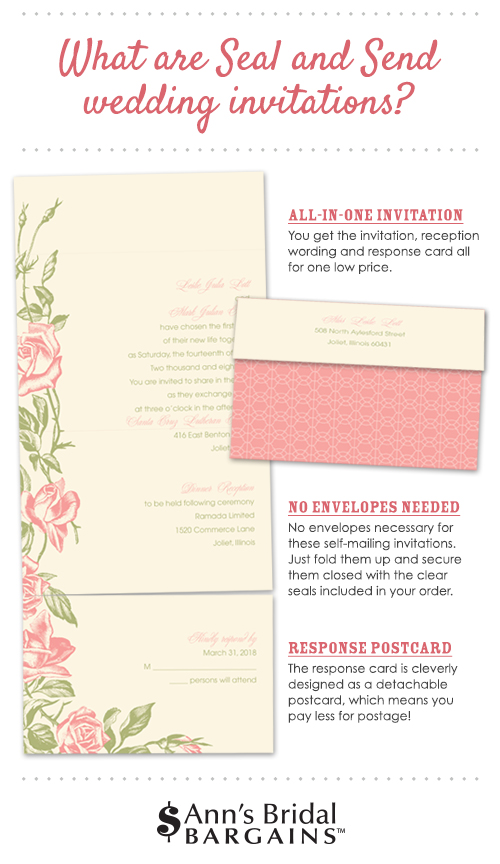 An All-in-One Wedding Invitation
The typical wedding invitation ensemble includes the invitation, a response card and a reception card. There are many variations of the standard ensemble but what's amazing about seal and sends is they're basically all-in-one wedding invitations. The seal and send is your wedding invitation but it also includes your reception wording as well as a detachable response postcard. You get the invitation, reception wording and response card all for one low price.
No Envelopes Needed
Seal and sends are self-mailing wedding invitations. This means you simply fold them up, secure them closed with clear seals included in your order, put a stamp on each one and send them out. Yep, it's that simple! You don't even need envelopes for the response cards since they're designed to mail as postcards.
Response Postcards
The response postcards included with seal and send wedding invitations are found at the bottom of the invitation. They are perforated so recipients can easily detach them from the invitations and send them back. You don't need to fuss with envelopes. All you have to do is include a return address and a postcard rate stamp — yet another clever way you save money with seal and send wedding invitations.
Not convinced? Check out a few of our other options for affordable wedding invitations. We offer separate and send wedding invitations, petite wedding invitations and value invitation sets.