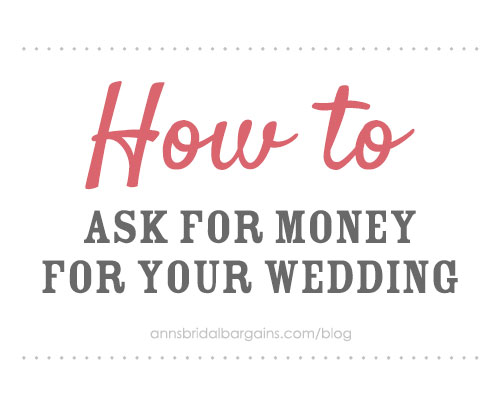 One of the most sensitive subjects you've probably had to deal with at one time or another is talking about money. For many of us, talking about money is an uncomfortable situation—one that we avoid as much as we can.
According to EmilyPost.com, "42% of brides and grooms-to-be said that 'how to request money as a wedding gift' is the most challenging etiquette issue they face as they plan their weddings."
If you're shopping for cheap wedding invitations on Ann's Bridal Bargains, you're already a budget-savvy bride or groom and money is on your mind (and we like it)! Before we get started, remember – never ever put your registry information on your wedding invitations. We explain why right here.
And now – Here are our three suggestions for politely asking for money as a wedding gift without feeling rude or awkward doing so.
Enlist the help of your parents, close family members, or friends.
The most common (and etiquette-friendly) way to ask for cash wedding gifts is to have your family and close friends spread the word. Guests will likely ask your parents or friends what you want anyway, especially if you haven't started a registry or decided not to use one.We have also heard of the "host" of the wedding (usually parents or maybe a close relative if the couple isn't hosting it themselves) sending out the invitations with an enclosure card featuring   wording such as this…"We would like to surprise the bride and groom with donations towards a down payment on the house/their honeymoon/other."
Use digital media to your advantage.
You've probably heard a lot about wedding registries already, but did you know you can register for monetary gifts? Honeyfund is a great example of an online registry that encourages guests to give money toward your honeymoon and more. It's a fantastic option for couples looking to politely ask for money, plus guests love knowing that their contribution is going toward something as fun and meaningful.You can also make a note on your wedding website that you would greatly appreciate monetary gifts. It's best to mention what the money will be used for, such as a house or honeymoon. Create a free wedding website on The Knot and add a section for your registry. When mentioning monetary gifts on your website, have a little fun with it and display something creative like a poem:
"More than just kisses so far we've shared,
Our home has been made with Love and Care,
Most things we need we've already got,
And in our home we can't fit a lot!
A wishing well we thought would be great,
(But only if you wish to participate),
A gift of money is placed in the well,
Then make a wish …. but shhh don't tell!
Once we've replaced the old with the new,
We can look back and say it was thanks to you!
And in return for your kindness, we're sure
That one day soon you will get what you wished for."!
Reception activities that encourage monetary gifts.
All we can say here is that you need to pay attention to what's tradition/common in your group of family and friends. Different families have different customs. Some people choose to have a Dollar Dance to encourage monetary gifts at the wedding reception. The Dollar Dance is where guests pay a dollar (or any amount they choose) to dance with the bride or the groom. It's a fun activity and is highly encouraged by some.
We have also heard of Honeymoon Fund Jars and Wedding Wishing Wells set up on the welcome table as a fun way to encourage monetary gifts. Some couples add an element of excitement by making it a competition. Have your guests vote on the honeymoon location by putting money in either jar—both labeled with a destination; the jar with the most money wins and you go on your honeymoon there!
Although these may seem like great ideas for your wedding, please consider your friends and family. We don't recommend introducing a brand new custom, as it may appear to be a rude attempt at asking for money rather than a fun tradition everyone is familiar with.
Best wishes, brides and grooms and happy planning!
xoxo – The Team at Ann's