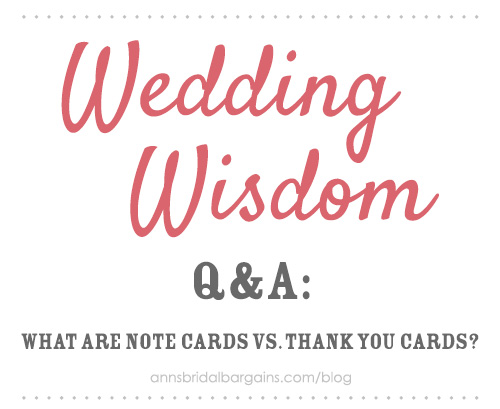 While on the hunt for wedding invitations, you may come across a piece of stationery called a note card. Note cards are most commonly used as thank you cards but may be personalized with just your names or monogram rather than the words, "thank you." Note cards can be used long after the wedding for general correspondence unlike thank you cards.
Thank you cards have become more popular among today's couples since correspondence by stationery has really taken a back seat to modern forms of communication. Most online wedding invitation retailers now use the term "thank you cards" across the board but if you prefer the idea of a note card, many thank you card designs can be personalized with just your monogram or names.
We highly recommend going with a classic monogram on your thank you cards. You just never know when those extra note cards will come in handy! Maybe you'll want to write a letter to your grandmother or leave your honey a love note in the morning before he goes to work.
Are you drawn to a more modern kind of style? Check out our great selection of photo thank you cards!