Brides often choose DIY wedding invitations because they want an invite that's truly one of a kind, but all you really need to create an unforgettable invitation is one very unique detail. Believe it or not, paper doilies can be that perfect finishing touch!
Cheap paper doilies from your local hobby store make beautiful wedding invitation wraps. Paper doily wraps are an easy way to add romance and luxury to your wedding invitations, and they're sure to impress your wedding guests.
What you'll need:
Paper Doilies (in a size that complements your invitations)
Glue Dots (for securing the doily to the invitation)
Scissors (for trimming the doily if needed)
Ruler and X-acto Knife
Ribbon or Twine (for tying around the doily and invitation)
What you'll do:
Of course you'll need some beautiful wedding invitations to start with. Obviously we highly recommend the affordable options we offer here at Ann's Bridal Bargains (you can't beat the quality for the price!) but we won't hold a grudge if you purchased invites elsewhere.
To start, lay a paper doily out on the table and place an invitation on top of the doily.
Use your ruler to make sure both sides of the doily are equal. Now use the dull side of your X-acto knife (a utility knife will also work) to score the doily where it meets the invitation on both sides.
Now remove the invitation and apply at least two glue dots to the doily. One inch up from the center and one inch down from the center will work fine.
Carefully place the invitation back on the doily so the edges line up perfectly with the scored lines.
Now fold each side of the doily over the front of the invitation. The scored edges will help the doily hold its folds around the invite.
Take your ribbon or twine and lay it flat on the table. Place your invitation wording side up on the center of the ribbon or twine.
Now tie the ribbon or twine in a bow or a knot on the front of the invitation. This will help secure the doily closed while adding a pretty accent.
Congrats! You just made cheap wedding invitation wraps that look amazing. Get ready for some serious compliments after sending these beauties out to friends and family.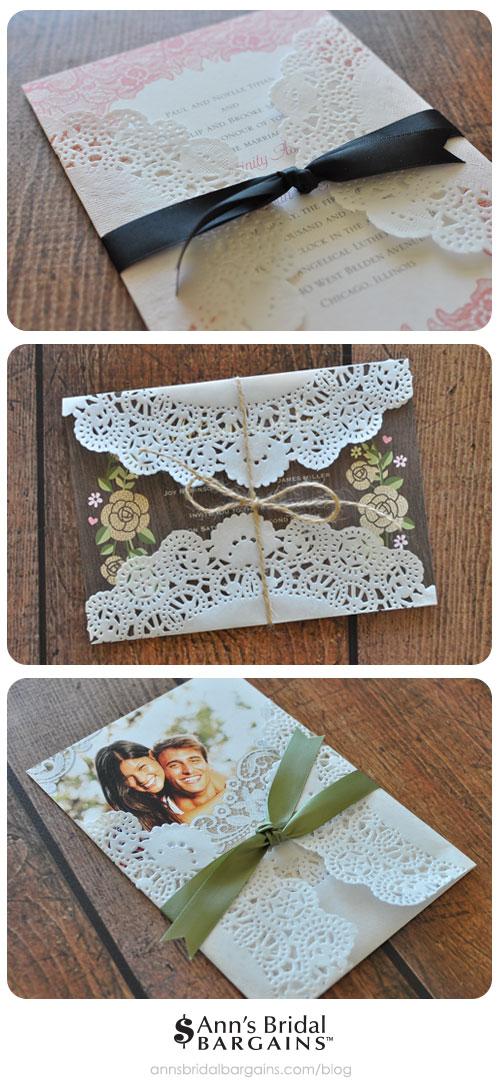 Since you like the look of doilies, we're going to take a wild guess that you also like the look of lace. Be sure to check out the Dress Up Your Invite: Lace post from back in February.