Gold is a heavyweight champ when it comes to creating unforgettable wedding details and has gained even more popularity in the last few years thanks to the rise of vintage trends no doubt. Black is a classic; a go-to for creating bold and classy looks. Put these two together and you WILL turn some heads!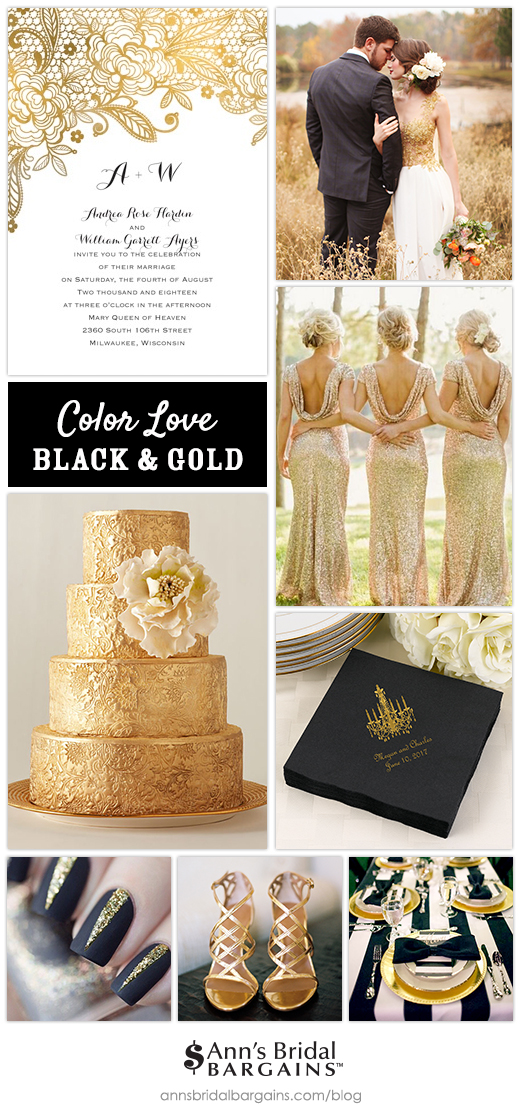 The Stationery
Although black wedding invitations are always a striking choice, we're a bit more partial to gold wedding invitations. We've chosen the Gold Lace wedding invitation for introducing these wedding colors because the ornate lace design in faux gold foil is undeniably gorgeous. However, we have to give a shout out to gold thermography. Any wedding invitation featuring thermography printing — separate and send invitations for example — are available in gold, and gold thermography is stunning, especially when you choose an invitation that's heavy on design. The Tree Love invitation is a good example.
The Little Things
Let's face it, you put a lot of time and thought into all of the details at your wedding, and it's sad news when they're overlooked. Something as special as personalized wedding napkins won't get a second glance unless they're "dressed to impress" in colors like black and gold. Gold is queen of bringing small details to life — there's a reason this precious metal remains a staple in jewelry. We have no doubt the gold wedding shoes and gold glitter finger nail polish shown here are more noticeable in this shiny hue.
The Big Things
Of course, gold should be used for more than just the little things. Gold is a star in the world of colors and it's always ready to shine! We're seeing gold wedding dresses and bridesmaid dresses that sparkle like no other gown can. We are practically drooling over the gold cake with its incredible textured metal finish, and let's not forget the black and white striped tablecloth with gold chargers and oversized black bow. Boom! Beautiful.
Photo Credit: Dress: Brandy Smyth Photography via Style Me Pretty, Shoes: Marisa Holmes via Style Me Pretty, Table Setting: Session Nine Photography via The Frosted Petticoat, Cake: Buzzfeed via Brides.com