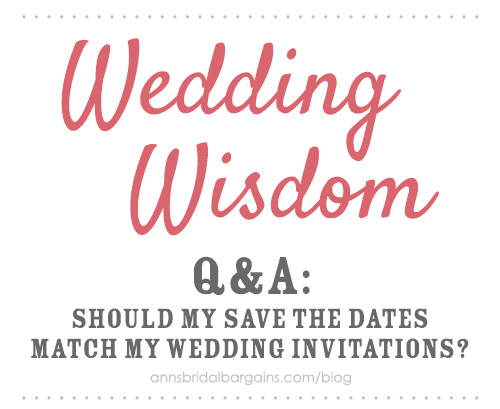 No, not necessarily. You can certainly purchase save the dates that match your wedding invitations, however a lot of information is needed to order your wedding invites. You may not have all the details you need by the time you want to order save the dates.
Save the dates are usually sent 9-12 months before the wedding date (closer to 12 months for destination weddings). Wedding invitations are usually sent 6-8 weeks before the wedding (up to 12 weeks for a destination wedding). The only information you need to send save the dates is your names, wedding date and the city where you will be married. An invitation requires much more information (read this post about What to include on your wedding invitation).
However, many couples are having shorter engagements, which means your timeline might be a little tighter and having all the information you need to order both is more feasible. At any rate, your choice in save the date is completely up to your style as a couple and whether you want your wedding theme to be portrayed from the very beginning.
We find that most couples use save the dates as a way to really show off their personalities! Lots of couples take this opportunity get creative and send something totally unique. Save the dates are typically pretty casual in comparison to the wedding invitation but it's not uncommon for couples to choose a similar design theme.
Ann's Bridal Bargains offers a variety of affordable save the dates, some of which do have matching wedding invitations. For example, the Beach Retreat save the date is also available as a wedding invitation. Although not all of our save the dates have matching invitations, many save the date designs complement our wedding invitations beautifully. So even though you may not find an exact match, you will surely find something that will coordinate nicely.