Mistakes are bound to happen, which is why we recommend having a few different people proof your wedding invitation wording before you place your order. Even if you read through your wording 20 times, we still highly recommend having at least two other people give it a look. You simply can't catch everything!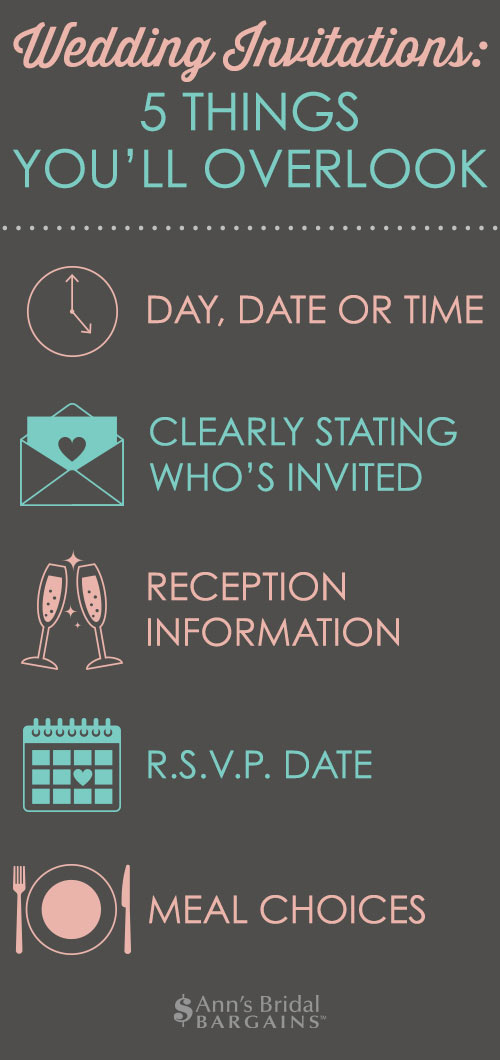 1. Day, Date or Time
Sounds crazy but it's all too common that the day, date or time is missing on the wedding invitations. We've done plenty of reprints because of this oversight so make sure you include the day of the week, the month and date as well as the time the ceremony and/or reception will be starting.
2. Clearly Stating Who Is Invited
This takes place on the envelope, not the invitation. Write the names of the people invited to the wedding on the envelope. Only include "and Family" or "and Guest" if you're prepared for the additional number of people. Read "How to Address Wedding Invitation Envelopes" for more information. If you're planning an adult-only wedding, you can state this on the reception card. Read "How to Word Your Adult-Only Wedding Invitations" to learn more.
3. Reception Information
Brides often forget to include the location of the reception. The address of the reception venue is important if your ceremony and reception are in different locations. If they're in the same locations, you can say "Please join us for the reception immediately following the ceremony" and guests will assume it's in the same spot. However, if your ceremony and reception are at the same location but in different areas of that location, indicate the area for each.
4. R.S.V.P Date
You will definitely want to include an R.S.V.P. date even if you think you're having a small wedding and you already know who is and isn't coming. Why? Because you will need to keep a record of who has responded and who is attending. A reply date ensures you will receive this information in time to let the caterer know exactly how many people to plan for. Read "How to Word Your Wedding RSVP Cards" for more information.
5. Meal Choices
The response card is the last item you will personalize in your wedding invitation ensemble, and it's easy to forget important details as you go. Do not forget to include meal choices on the response card if you're providing choices. There are specific wording options you can choose when personalizing your response cards to help you through this. If you're doing a buffet style or plated meal with just one choice, don't worry about it. If you're doing appetizers and drinks, you will want to indicate that in the reception wording.