Unless you're wedding planning in a different universe, you've noticed the greenery trend. Swags of olive branches. Trailing eucalyptus. Halo veils of cedar. We love it ALL. You can spend a pretty penny on a wedding invitation suite that feature custom watercolor greenery but guess what? You don't have to. Each one of these gorgeous
greenery invitation suites
is just 99¢, R.S.V.P. card included!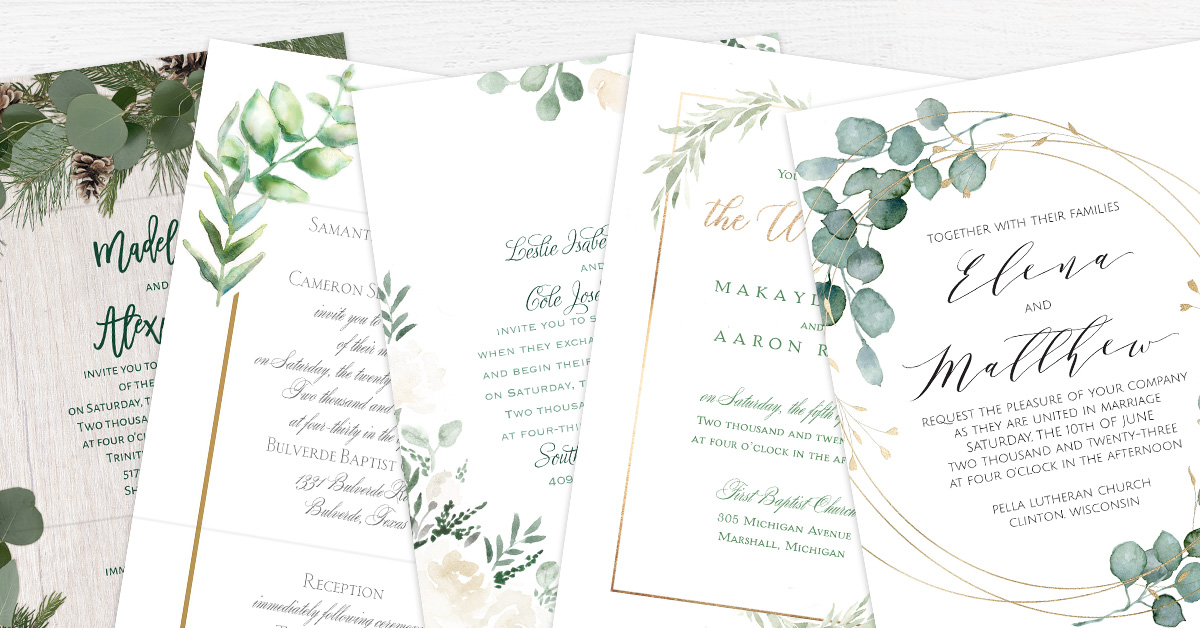 1. Eternity – Invitation with Free Response Postcard
We don't wanna play favorites, but this beauty might be our favorite. The watercolor eucalyptus paired with the gold accents feels so bohemian and chic.
Pro Tip: Upgrade to shimmer paper to add a little sparkle and shine.
2. Watercolor Greenery – Seal and Send
Have you seen a Seal and Send wedding invitation before? These are genius. Everything you need, including a response postcard, is included all together in an all-in-one piece. We love this painted greenery and gold style!
Pro Tip: Update to a more modern look with a different font options. We love Copperplate Gothic and Futura Light.
3. Winter Pine – Seal and Send
Winter weddings are growing in popularity each year. When it comes to your invitation, think winter greens! This Seal and Send invitation combines silver dollar eucalyptus, pine, frasier fir and pinecones to create a style worthy of your wedding.
Pro Tip: Upgrade to textured paper! It's perfect for this rustic look.
4. Painted Garden – Invitation with Free Response Postcard
Mix a few floral in with your greenery on this heavenly invitation suite. The white and green palette is so fresh, you can practically smell the blooms!
Pro Tip: If you're doing an online reply, turn your free R.S.V.P card into a postcard thank you note.
5. Greens and Gold – Invitation with Free Response Postcard
You just can't go wrong with gold and green. It somehow fits nearly any wedding style! Classic but trendy. Elegant but Edgy. This design is a favorite and it's easy to see why.
Pro Tip: Update the font from green to black to make this design instantly more modern.