Whether you are going for an offbeat, classic, modern or vintage ceremony, you will need a stellar song for your grand bridal party entrance. Music makes a big difference during your nuptials, as it sets the pace and creates the mood you want. The song leading up to the big moment – when the bride walks down the aisle – is an important one. Like an introduction to a great speech, the bridal party song is a crucial pick for the flow of your ceremony.
Luckily, I've done my research and handpicked some excellent options to make the narrowing-down part a little bit easier. Here are my top 10 picks for bridal party entrance songs: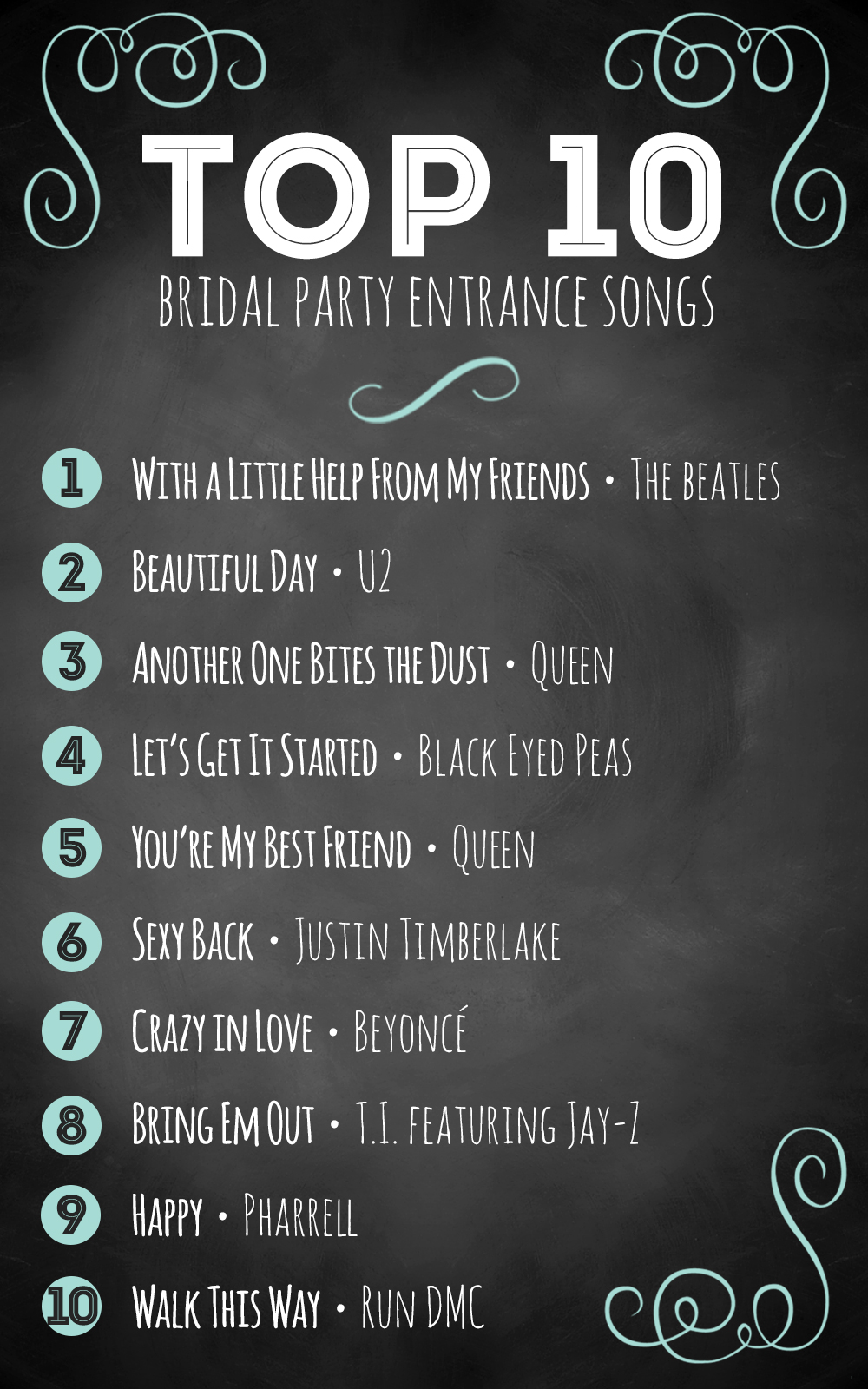 1. "With a Little Help From My Friends" – The Beatles: John, Paul, George and Ringo really said it best, didn't they?
2. "Beautiful Day" – U2: Your guests will have a hard time forcing back a smile when your ladies walk down to this song.
3. "Another One Bites The Dust" – Queen: For brides with a sense of humor.
4. "Let's Get It Started" – Black Eyed Peas: The ultimate dance party song. If you want your bridal party to cut loose and break it down a little, this is your pick.
5. "You're My Best Friend – Queen": Freddie Mercury and company strike again with this classic rock ode to friendship.
6. "Sexy Back" – Justin Timberlake: Don't worry ladies, I didn't leave Justin out. This song is the perfect soundtrack for strutting your stuff.
7. "Crazy in Love" – Beyonce: You can't go wrong with Beyonce, especially since this is a love song featuring Jay-Z
8. "Bring Em Out" – T.I. featuring Jay-Z: Re-live the bachelorette party with this festive number.
9. "Happy" – Pharrell: Sometimes the simplest of messages creates just the right atmosphere.
10. "Walk this Way" – Run DMC featuring Aerosmith: Walking down the aisle just seems a whole lot cooler with Run DMC and Steven Tyler narrating your sweet moves.