It's the most debated, agonized over and controversial topic in wedding planning. Do you invite kids to your wedding or ask your guests to make it a date night? For most, it feels like an easy decision no matter which side you land on. But often, there are unexpected circumstances that might lead you to cut the kids off your guest list. We asked five brides who had kid-free celebrations about their decision and how they ensured their guests understood it was an adults-only wedding.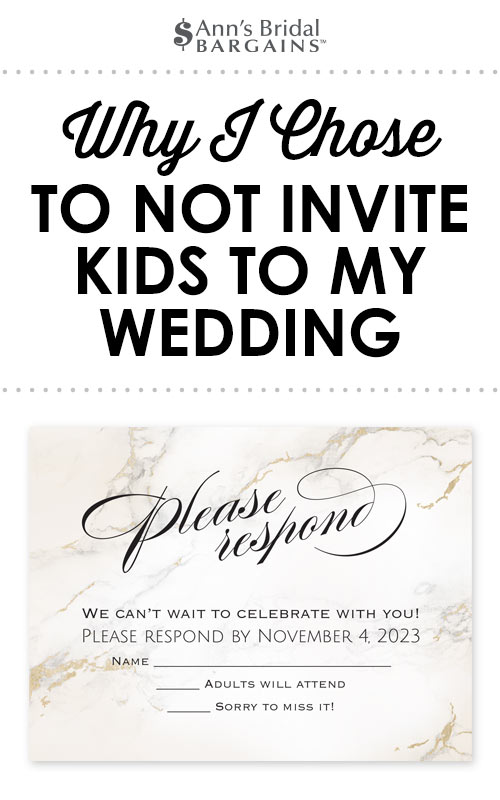 Kate's Reason: Our Venue Was Teeny Tiny
Kate and her husband Rich were married last October in a quaint B&B in rural Minnesota. It was a picturesque setting: a sweet garden ceremony followed by cocktails and an intimate dinner. It was their dream location but it came at a cost. "After we made our guest list, it was clear that our venue simply couldn't accommodate all the children. For a moment, we considered changing our location, but quickly decided we weren't willing to sacrifice our wedding-day vision", says Kate. "Since our head count was fairly low – just 54 guests – it was easy to make a few phone calls to explain our decision to affected family members and friends. Everyone was very gracious and totally understood."
Hannah's Reason: The Kids Would Out-Number Adults
Hannah and her wife Sara had a laugh-out-loud moment when they made a startling realization about their guest list. "I met my wife when we were 39 and 41 so our friends were in that phase of life when it's all about the kids", says Hannah. "Don't get me wrong, I love them all dearly, but our invited friends had a collective 56 children ranging from newborn to twelve year old. When we counted them all up we looked at each other absolutely bewildered." Hannah and Sara decided to only invite a few children who were close family members. The tricky part was communicating the please-leave-the-kids-at-home message to their other guests. In the end, they decided to take a direct approach. "We added a small enclosure card and slipped it in with the invitations that were being sent to our guests with children. We carefully crafted the message so it felt fun. It said, 'while we love your littles, we ask that you please make it a date night! A list of local babysitters is available on our wedding website.'"
Maria's Reason: We Wanted to P-A-R-T-Y
Maria and Tony knew exactly what they wanted their wedding day to be all about: FUN. "There was never any question that we would not be inviting kids to our wedding. We knew what we wanted our day to be like, and that did not include children crowding the dance floor", says Maria. She continues, "I'm sorry if that sounds harsh, but the biggest line item on our budget was the open bar! We wanted to party!" Maria chose to use her response cards to make her adults-only wedding plan clear to her guests. "It was simple. On our response cards we added the word 'adults' to the 'will attend' line. So it read '_ adults will attend.' Maria also added a note on their wedding website and let the news spread word of mouth. It worked like a charm! Not a single child was brought to their wedding.
Ella's Reason: TBH, I Just Didn't Want Kids at My Wedding, Okay?
The thing is…you don't owe your guests a reason for not inviting kids to your wedding. Ella debated about whether or not she wanted a kid-free wedding for months. "My mother-in-law was adamant that we invite children. She didn't want family members to feel like they had to make a choice about whether or not to attend our wedding based solely on childcare," says Ella. "We love children dearly, but when I pictured our wedding day, it simply didn't include them." Ella continues, "when we ordered our wedding invitations, I added a small line of text at the bottom of the invitation that read 'adults only ceremony and reception' which was impossible to miss. I didn't want to beat around the bush or feel like I needed to offer a reason or apology. After all, it was our day!"
Meredith's Reason: I Had a Slim Budget!
Meredith and Bradley had a huge wedding on a small budget. "Our guest list topped 250 people and yes, that was without kids! We both have large families and are social butterflies. We knew we wanted a big wedding, but it was also important that we stay on budget so we had to make a difficult decision" says Meredith. She quickly discovered the expense of having children attend your reception can be monumental. "Our reception venue had kid-friendly meals, but they were $20 a head. Cutting kids off our guest list saved us over $1,000 and honestly, I didn't miss having them there. Don't tell their parents!" Meredith communicated her choice in two places. "We added text that said 'adults only, please' on our response cards. We also addressed the inner envelopes to the invited guests only. Since we did invite a few older teens, this was the perfect way to clarify who was invited and who was not."
Product shown:  Whom My Soul Loves Invitation with Free Response Postcard