Sale: 20% off $99+ or 15% off $49+ | Code: 15OR20 | Ends Monday, 12/4
Up to 20% Off | Code: 15OR20
How to Word Your Wedding and Bridal Shower Thank You Notes
Writing thank you notes is probably the most loathed wedding-related task. Why? It can feel so overwhelming (so many gifts!) and it can be hard to know exactly what to say without sounding like a robot.
Follow the thank you note template below and you'll have the formula down in a snap!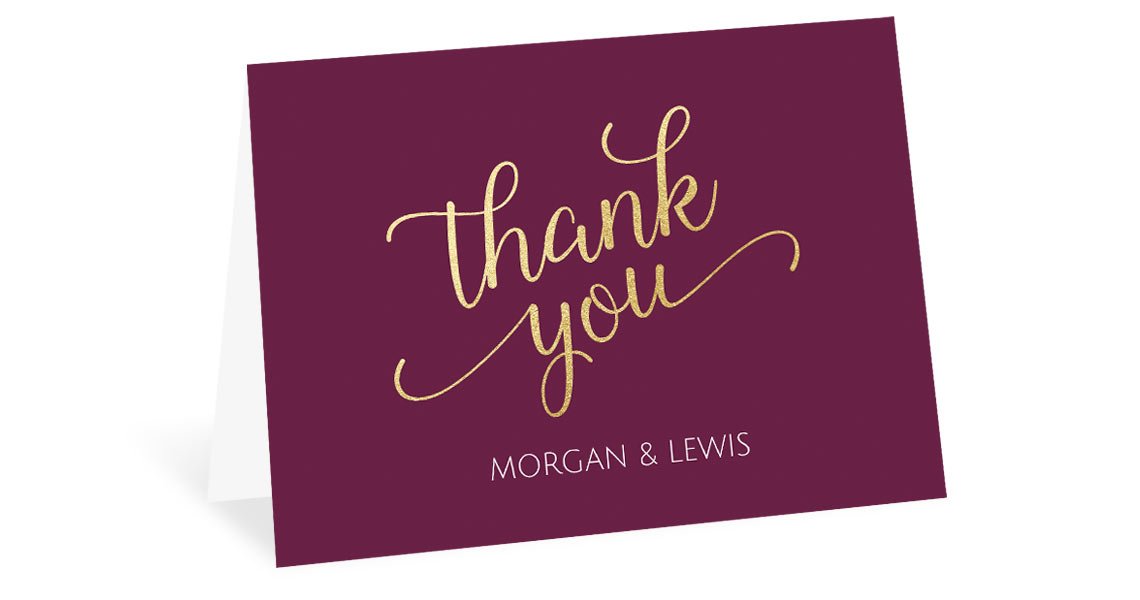 Featured Thank You Card: Better Together thank you card
HOW TO WRITE A PERFECT WEDDING THANK YOU CARD
1. GREET THE RECIPIANT(S)
Example: Dear Aunt Jane,
2. MENTION SEEING THEM (IF YOU DID)
Example: It was so wonderful seeing you at my bridal shower! I was on cloud nine the entire day and being surrounded by those I love most was so special.
3. SAY THANK YOU
Example: Thank you so much for the sweet gift.
4. MENTION SOMETHING SPECIFIC ABOUT THE GIFT
Example: I am not a baker (yet!) and James is positive I don't know how to operate a hand-mixer, so I'm very excited to prove him wrong! I think I'll try mom's famous chocolate chip cookies first. I'm positive the mixer will be used so often and I'll think of you every time I bake a goodie.
5. OFFER A PERSONAL COMPLIMENT
Example: More than anything else, thank you for your love and support. It means more to me than you'll ever know.
6. ADD A HEARTFELT CLOSING
Example: With Love, Emily
WEDDING THANK YOU NOTE WORDING EXAMPLES
Of course, you can mix up this formula as you see fit. Still struggling? We got you. Here are a few examples of how to write thank you notes for your wedding and bridal shower.
HOW TO WRITE A THANK YOU FOR MONEY
Dear Jake and Maggie,
Having you at our wedding was such a gift! Seeing your faces in the crowd as we said our vows made our day so much more special…thank you for always rooting for us, showing up and loving us.
Your gift was so generous – you spoiled us! We used it on our honeymoon and treated ourselves to the most romantic dinner at a beachside restaurant. We'll have you guys over sometime and try to recreate the sea bass and scallops dish – it was totally heavenly!
We can't wait to get together with you guys soon!
With love,
Ford and Max
HOW TO WRITE A THANK YOU FOR A BRIDAL SHOWER GIFT
Dear Marcia,
It was so lovely having you at my bridal shower. Being surrounded all the women who have made an impact on my life was overwhelmingly beautiful. Thank you for the thoughtful gift; I love fresh flowers and will think of you every time I make an arrangement in that gorgeous vase! Dahlias are my favorite and we plan on planting a few bulbs this fall; they'll look perfect in it.
Most of all, thank you for the love and support you've given John and I during this journey. I can't believe our wedding is just two months away! Bring your dance shoes, because we're going to cut a rug together!
xoxo,
Elizabeth
HOW TO WRITE A SIMPLE THANK YOU CARD
Dear Benjamin,
Thank you so much for the wedding gift. It was so kind of you to think of us and your generosity is truly appreciated! The candlestick holders are beautiful and we plan to display them on our fireplace mantle. We're certain they'll become a family heirloom and be passed on for generations to come.
Your thoughtfulness and friendship mean the world to us.
Love,
Hannah and Marcus
OTHER LINES TO USE IN YOUR THANK YOU NOTES
Don't worry about your thank you cards being similar. Your guests will never know! The important thing is that whatever you write makes them feel appreciated.
If you're feeling stuck how the right words to use, here are some sure-fire winners.
You are a great friend; I will think of you every time I use _____.
With friends like you, every day is truly a celebration.
Your generosity is truly appreciated.
Your thoughtfulness and friendship mean so much to us.
Thank you for making our wedding day absolutely perfect.
You looked so beautiful in that dress! I can't wait to hear more how you found it.
Your friendship is a priceless gift.
The support you've provided us our journey has been invaluable.
Thank you for always making us feel so loved and supported.
THANK YOU NOTE ETIQUETTE
Yes, there are rules when it comes to wedding thank you cards. A few of the most important are:
1. Do keep track of who gave you what as you're opening wedding gifts.
2. Do have fun coordinating the thank you note style to your wedding invitations.
3. Do thank everyone verbally if you have time during your wedding day.
4. Don't wait longer than 3 months to send thank you notes.
5. Don't mention cash amounts on your thank yous. Use the phrase "gift of money".
6. Don't leave guests with just a verbal thank you. Handwritten notes are a must.
We hope you found the advice and examples helpful! Give us a shout if you need any help as you customize your own crazy-affordable thank you card. xoxo