Sale: 20% off $99+ or 15% off $49+ | Code: 15OR20 | Ends Monday, 12/4
Up to 20% Off | Code: 15OR20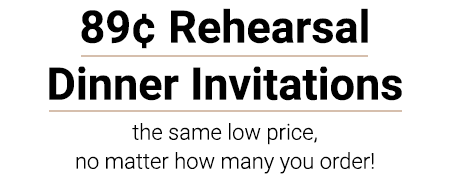 Cheap Rehearsal Dinner Invitations
(50 Items)
Product Types
Occasion
Format
Theme
Style
Color
Size
The night-before-the-wedding celebration can be just as fun as your wedding itself! Be sure to invite in fun style with an affordable rehearsal dinner invitation that reflects your own personal style. Yes, our prices are crazy-low, but don't worry a bit; you'll fall in love with the fabulous paper quality and crisp and clear printing.
You'll fall in love with all the different rehearsal dinner themes and styles! Some of our most popular rehearsal dinner themes have rustic styling. Create a cute I Do BBQ themed rehearsal dinner, or invite to an outdoor celebration with an adorable string of lights invite. Of course, inviting with a simple rehearsal dinner invitation is a great choice, and our elegant designs are so pretty. To make a sophisticated invitation extra elegant, choose a design that features a photo of the happy couple! And finally, one of our favorite themes is funny and so cute: throw a rehearsal dinner all about the food! Our Love and Tacos, Love and Pasta and Love and Pizza are forever favorites!
Rehearsal Dinner FAQs
When should I send my rehearsal dinner invitations?
If you're planning ahead, there's no reason not to slip your rehearsal dinner invites in with your wedding invitation suite. They can also be mailed separately 3 – 6 weeks before your big day.


Who should we invite to our rehearsal dinner?

The short answer is: whoever you'd like! The longer answer is: be sure to invite your immediate family, wedding party and officiant. If you have guests traveling from out of town, it's a lovely gesture to invite them as well. Don't forget to include significant others.


How quickly will I receive my order?
Most invitations take just 1 -2 business days to print. We have several shipping methods available depending on how quickly you need your invites in hand.


What other pieces do you have for Rehearsal Dinners?
Adding a custom touch to your rehearsal dinner is easy, and inexpensive, when you order fun, wedding napkins. Choose a design with an Eat, Drink and Be Married or Sip, Sip, Hooray theme. Your wedding guests will totally love this personalized detail!