Sale: 20% off $99+ or 15% off $49+ | Code: 15OR20 | Ends Monday, 12/4
Up to 20% Off | Code: 15OR20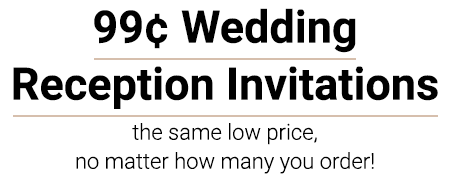 Reception Only Wedding Invitations
(40 Items)
Product Types
Occasion
Format
Theme
Style
Color
Size
Having a small wedding ceremony followed up by a big reception is increasing in popularity. Whether you're having an elopement reception, or even a hometown reception after your destination wedding, be sure to invite in style that suits your taste. From casual, rustic themes to elegant designs, we promise that here, you'll find an invite you love for a cheap and chic price.
Remember – even a small wedding deserves a big celebration! If you're in the market for reception-only wedding invitations that are budget-friendly, you've come to the right place. We're the experts in wedding invites and now we have a whole collection of invitations made just for post-ceremony receptions too.

Should We Send Invitations For Our Wedding Reception?
It really depends on the formality of your celebration. If your guest list is small and you're having a casual gathering, it might be just fine to invite verbally.
If you're having a large wedding reception, we recommend sending invitations, just like you would for a traditional wedding ceremony. But remember, you don't have to spend a lot a money on your reception-only invites. Our affordable reception invitations have the same look as those higher-priced stationery brands, but cost way less.

How Can We Save Money on Wedding Reception Invitations?
There are a few ways spend less on your reception invitations. First, make sure you're only buying as many as you actually need to send. So often, we have couples who order invitations that are equal to the number of people they're inviting. But remember, you only need to order one invitation per household, not guest.
Next, add an online RSVP option, instead of adding a response card. This will save you money on the card itself, and on postage too!
Finally, don't forget the backside of your invitation. You can squeeze in extra information like accommodation and travel information, your wedding website and details on how to RSVP.

Are Reception Only Invitations Cheaper Than Normal Invitations?
Yes, if you're inviting to your reception-only, it can be considerably cheaper than a regular wedding invitation. You may not need to bother with extra enclosure cards and response cards that traditional invitation sets often include.
You may also decide the invitation itself can be more casual, which can also equal an inexpensive price. Our reception only wedding invites are printed digitally, and skip the extra fancy details like embossing or expensive printing processes. But don't worry, even though our invitations might seem cheap in price, the thick paper stock and vibrant printing will impress you!

What Are Cute Ideas for Reception Only Invitations?
There are so many ways to make a cute wedding reception invitation!
Are you having a particular theme for your reception? If so, match you invite to reflect your theme. We love when couples host a rustic wedding reception, and our cute country designs are a perfect match.
A really popular style is to invite with is a Happily Ever After Party theme. This clever spin on a classic saying can be styled to be sophisticated or ultra-casual, depending on your venue and the kind of vibe you want your reception to have.
And here's an idea your guests will love: add a photo from your wedding ceremony (or an engagement photo) to your invitation. They'll love seeing your happy faces and you'll enjoy putting those wedding photos to good use!
Do We Need to Send RSVP Cards for a Wedding Reception?
The short answer is: it's up to you! But keep a few things top of mind…
If you're having a catered meal, you'll definitely want an accurate headcount, just like you would for a traditional wedding. You can save money on your reception invitations by including an online RSVP option, or having your guests text or call you.
But you can also include an RSVP card with your invitation. All of our reception only invitations have matching response cards that can be purchased for a super affordable price.
When Should We Send Reception-Only Wedding Invitations?
You can drop your wedding reception invitations in the mail 4-8 weeks before your party date. If you have lots of out of town guests coming, the 8 week mark is a good idea. If most guests are locals, a month before is just fine.
Don't forget to send Save the Date cards, especially if you're having a large reception. They can be mailed 4-9 months before your reception, and make sure your guests reserve your reception date on their calendar.