Sale: 15% off $69+ or 10% off any order | Code: EXTRAOFF | Ends Thursday, 12/7
Up to 15% Off | Code: EXTRAOFF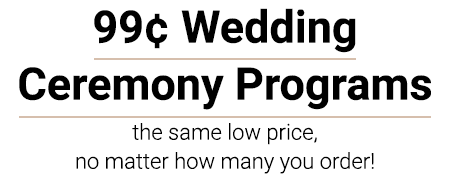 Wedding Programs | Inexpensive Wedding Programs
(132 Items)
Product Types
Occasion
Format
Theme
Style
Color
Size
Your wedding day is fast approaching and it's time to nail down all those details that make your day shine! One of our favorite ways to add a personalized touch to your ceremony is to order custom wedding programs. If you're thinking that sounds like a budget-breaker, we have good news – our bulletin style programs are both beautiful and inexpensive.
Creating a ceremony program that reflects the style or theme of your wedding is important. Our most popular programs have elegant and simple styling, with classic color palettes (yes, you can create your own), sweeping fonts and sophisticated layouts. If you're having a rustic themed wedding, you're going to love what you find. From country western wedding programs to woodgrain style programs adorned with sunflowers, these designs have become forever favorites that stand the test of time.
We know finding budget friendly stationery for your ceremony and reception isn't easy, which is why we're always creating new designs that are on-trend. Using photos – either from your engagement session or casual snapshots – is a really popular way to add an extra personal touch. Our photo ceremony programs range from basic to greenery themed; you're sure to find a look you absolutely love. And if you're styling your wedding around the season, we've got you covered. Our fall themed wedding programs are bursting with autumn florals and leaves in rich hunter green, apricot orange and gold color combinations. For winter weddings, create a program with swirling snowflakes, Christmas pinecones or winter flowers.
Commonly Asked Questions About Ceremony Programs
Do we really need to provide wedding programs?
Fair question, especially for couples who are really watching their wedding budgets. Keep in mind, our cheap wedding programs are actually very affordable and they add a level of detail to your ceremony that guests really do appreciate. The program acts as a guide of sorts, helping guests feel more engaged with the ceremony. And since our programs are double-sided, there's room to list your wedding party too!


What goes on a wedding program?
There are three parts to your basic wedding program:

1. The order of ceremony

2. A list of ceremony participants and your wedding party

3. A thank you to your guests

Just remember that your program can be whatever you want it to be, so make it as simple or as fun or as elaborate as you want! 



What are other ways we can personalize our ceremony and reception?
Of course, you'll find so many ideas on Pinterest, social media and old school wedding magazines. Adding details that are professionally personalized is our jam and for couples looking for a decoration that becomes a keepsake, we recommend ordering a wedding guest book . Forget those old-fashioned books, ours are designed with fun themes and even your own photos. Have fun making yours one-of-a-kind!