Sale: 15% off $69+ or 10% off any order | Code: EXTRAOFF | Ends Thursday, 12/7
Up to 15% Off | Code: EXTRAOFF
How To Word Your Wedding RSVP Cards
You might think that the most important part of your wedding invitation suite is the invitation itself. And okay, maybe you're right…it does cover the who, what, where and when of your wedding day, which is pretty important stuff!
But – don't discount the importance of your RSVP card. Without it, you won't know who's coming to your wedding, which means you'll have a very hard time properly buttoning up details for your venue and caterer. Remember, our wedding invite sets come with rsvp cards included, so you don't have to pay extra – this adds up to huge savings.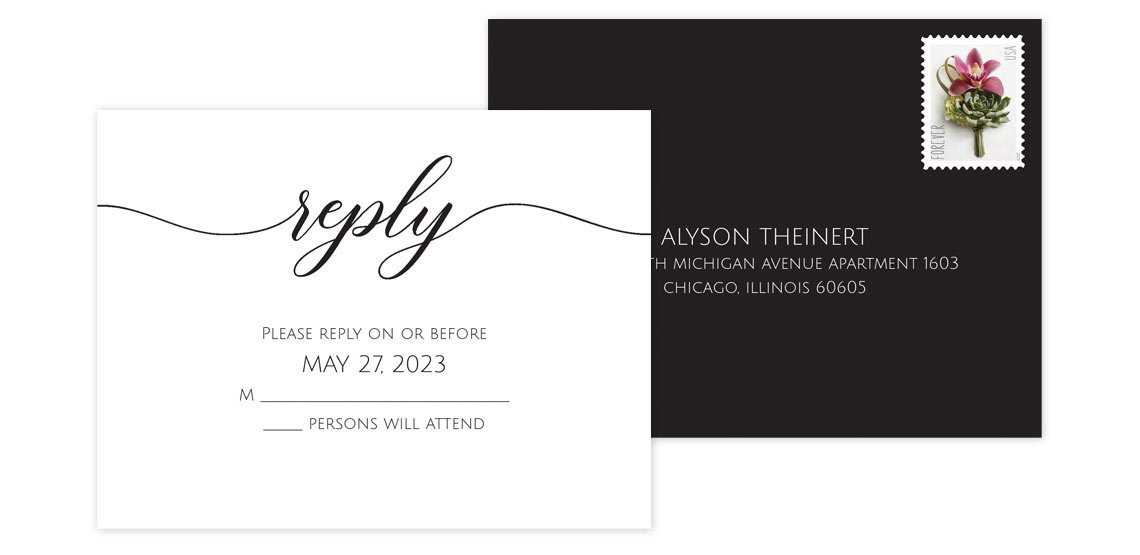 If you're customizing your wedding invite and are stuck on how to word your RSVP card, we can help. First, let's break-down what pieces of information your response card should include:
wedding rvsp must-haves
There are 3 pieces of key information you don't want to forget.
a due date
Giving your guests a due date – or respond-by date – is hugely important. Without it, your rsvp card is sure to sit on your wedding guests kitchen counter for weeks on end…or worse yet, forgotten all-together. Choosing what your RSVP-by date should be can be tricky and should take into account your venue's needs.
wedding guest name(s)
Leave room on your RSVP card for your guests to write in their name. Traditionally, this is known as the "M" line. The "M" begins the person's title: Mr., Mrs. or Miss.
If you find that confusing or old-fashioned, you can replace it with "Name(s)" for a more casual style. We have examples with both below.
number attending
Make sure your guests let you know how many people will be attending your wedding. If you don't want to leave this up for interpretation (like if you're having an adults-only wedding), there are ways to write in the number of people that you're inviting.
wedding rvsp might-haves
Depending on your reception, you might want to also include:
meal options
If you're having a plated-meal and want to give your wedding guests choices, add their dinner options onto your RSVP card.
fun stuff
We love when couples get creative and add extra customized wording onto their response cards. Our favorite is to add a spot for a song request! This is such a creative way to build your wedding dance playlist.
wedding rvsp card wording examples
traditional rsvp wording
The favor of a reply is requested
on or before June 15, 2022
M _______________________
Number attending ____
simple rsvp wording
Please reply by
June 15, 2022
Name(s) _______________________
__ will attend
__ regretfully declines
casual rsvp wording
The courtesy of a reply is requested
on or before June 15, 2022
Name(s) _______________________
Number attending ____
adults-only rsvp wording
Please reply by
June 15, 2022
Name(s) _______________________
We've reserved ___ spots for you (before mailing, hand-write in the number you're inviting in the blank)
rsvp wording with meal options
Kindly reply by
by June 15, 2022
Name(s) _______________________
Number attending ____
Please indicate number of each
Filet Mignon __ Chicken Kiev __
fun rsvp wording
Don't be late to celebrate!
Please respond by June 15th
Name(s)________________________
_____ yes, we're there!
_____ bummer, we can't go
rsvp wording with song request
Please respond by June 15th
Name(s)________________________
_____ accepts with pleasure
_____ regretfully can't attend
Help us build our wedding playlist!
Song request: ______________________
online rsvp wording
Kindly reply by June 15th
using the following website:
www.weddingwire.com/BeccaAndJosh
We hope you found this advice helpful! Give us a shout if you need any help as you customize your own wedding invitation suite! xoxo