Sale: 20% off $69 | Code: SNOWSALE | Ends Monday, 12/11
20% Off $69+ | Code: SNOWSALE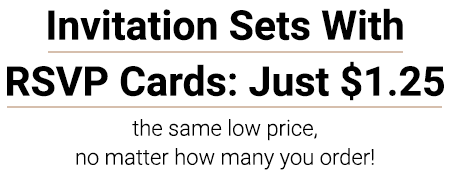 Wedding Invitations With Free Response Postcards
(306 Items)
Invite With Free Reply (306)
Clear All
Product Types
Occasion
Format
Theme
Style
Color
Size
In the world of weddings, nothing seems to be free…until now. Shop wedding invitations with free RSVP cards, and discover how affordable inviting can actually be. These sets include everything you need to invite – a double-sided wedding invitation, rsvp postcard and envelope. And, since each design is personalized, you can fit all your details, including your reception information, your wedding website and more.
If you've been invitation shopping for a while now, you know that getting invites with reply cards adds up to major savings. If you're worried about the quality, let us ease your fears. These all in one sets with rsvp cards are printed on the same sturdy paper stocks as higher-priced brands, but for half the price.
Now, let's talk about all the incredible styles and themes you'll find. Just because these invite bundles are cheap, doesn't mean they're not just as beautiful as those expensive brands. You'll find elegant designs, complete with gold details and timeless styling. Or perhaps a rustic theme is more your style. Check out our charming country themes that yes, come with it all included!
We sure do love this format, but if you're not finding exactly what you want in this collection, check out our clever seal and send wedding invitations. These brilliant invitation are cute and don't even need envelopes to mail them!