Sale: 20% off $69 | Code: SNOWSALE | Ends Monday, 12/11
20% Off $69+ | Code: SNOWSALE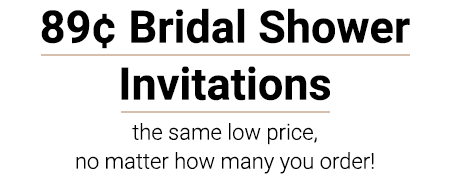 Cheap Bridal Shower Invitations
(118 Items)
Product Types
Occasion
Format
Theme
Style
Color
Size
As a close friend of the bride, of course you want to throw the perfect bridal shower but you'd rather not spend a fortune to make it happen. We get it, and firmly believe that bridal shower invites should be as inexpensive as they are pretty. Our vast selection of budget-friendly invites feature gorgeous design, on-trend themes and high-quality paper and printing. We promise that creating a custom shower invitation that's unique and fun is easy and doesn't have to cost a ton of money.
Wedding Shower and Bridal Shower Invitation FAQs
What are the Most Popular Bridal Shower Themes? If you're looking for a great theme for your bridal shower, get inspired by our fun invitations. Favorite ideas that are always a hit are Brunch and Bubbly and Tea Party bridal shower themes. If you want to match a bridal shower to the couple's wedding theme, be sure to check out our rustic designs and cards adorned with greenery. For a bride who loves natural style, create a boho bridal shower theme and choose an invitation with floral details and pretty colors.


Another cute way to set a theme is to decorate based on the season. If you're throwing a wedding shower during the holiday season, create a Christmas themed party. Having a wedding shower during the autumn season? Our pretty fall themes set the mood for a cozy celebration. And of course, spring and summer themed bridal showers are hugely popular. Shower styling during these seasons are so versatile. From simple to modern, personalizing the look for the bride is what makes shower planning so much fun!

Do You Have Wedding Shower Invitations for Grooms? Yes! If you're throwing a groom's shower, or same-sex shower, we've got you covered. We also have couple's shower invitations with themes like Stock the Bar and Brews Before I Dos.

When Should I Send Wedding or Bridal Shower Invitations? We suggest sending bridal shower invitations about 4 weeks before the event date to give guests time to mark it on their calendars and make appropriate plans such as arranging for babysitters, etc.

Who Receives a Wedding Shower Invitation? The guest of honor (or, guests for a couple's shower) determines the guest list. They can choose whomever they want – friends, family, coworkers, future in-laws, etc. When creating this list, they should provide names, addresses and contact information (if possible) for each guest.

How Many Bridal Shower Invitations Should I Order? Order one bridal shower invitation per guest. Remember to send an invitation to anyone 18 years of age or older, even if they're living with their parents.

How Fast Can I Get Wedding Shower Invitations? Speed of shipment can vary depending on what you purchased but generally our customers are very happy if not surprised at how fast they receive their orders. Most invitations take just 1-2 business days to print. We have several shipping options, depending on how quickly you need your invitations.

Do You Have Thank You Cards That Match Bridal Shower Invitations? Yes! To make your shower invitation extra cute, add an envelope seal for a pop of color. And of course, the guest of honor will need to thank the guests. Order her some wedding thank you cards too, and make writing bridal shower thank you cards super easy (and cute too!).

How Do I Word Wedding Shower Invites? Your wedding shower invitations should include these key pieces of information: who the shower is for, who's hosting, the date, time and location. Adding registry information is perfectly acceptable too. If you'd like some help, our wording experts have lots of wording examples for bridal shower invitations to share.