Sale: 20% off $69 | Code: SNOWSALE | Ends Monday, 12/11
20% Off $69+ | Code: SNOWSALE
The Difference Between Formal and Informal Wedding Invitation Wording
The time has come to create your wedding invitation – yay! When you sit down to compose your invitation wording, you pause and wonder just how formal it needs to be.
The answer is simple: it's up to you!
The best way to determine which style of wording you want to use is to ask yourself how formal you want the wedding to be. Are you planning a wedding that's rooted in tradition? An upscale soirée? Then we recommend using formal invitation wording.
If you want a casual vibe and tradition is not top on your priority list, then informal wedding invitation wording is a great fit.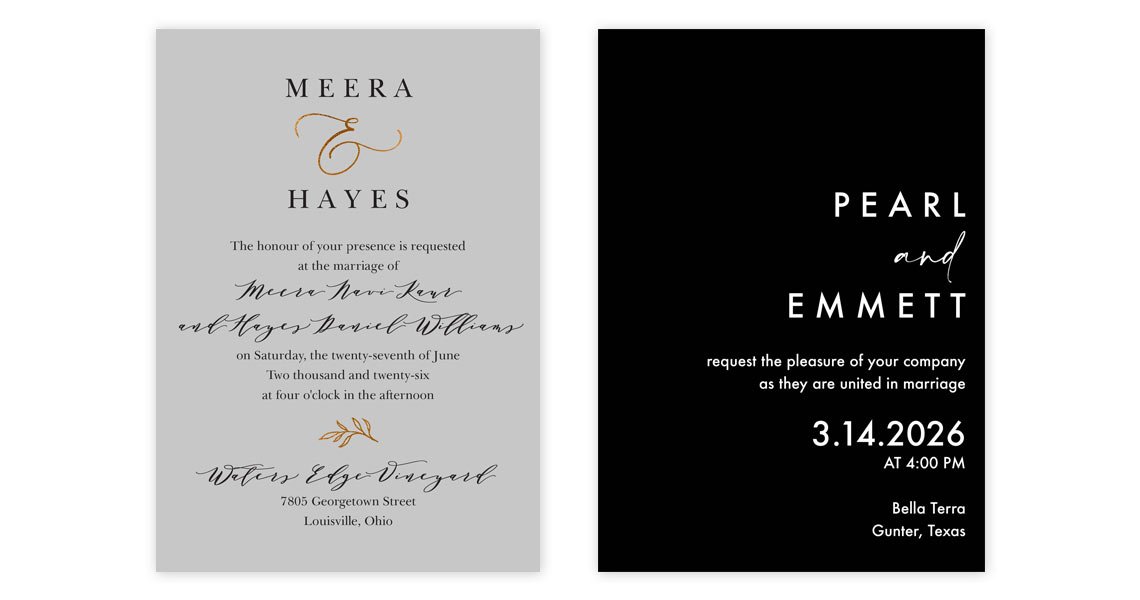 Featured wedding invitations: Copper Accents and Tonal Black
Examples of Formal vs. Informal Wedding Invite Wording
Still not sure what you want to do? Remember, your wedding invitations are your guests' first impression of your wedding day, and they should convey just how formal your celebration will be.
We've put together an entire wedding invitation ensemble, from your wedding invitation to RSVP cards, featuring both formal and informal wording. Read through these examples, and you'll have a better idea of what you'd like to use for your wedding stationery.
An Example of Formal Wedding Invitation Wording
Formal wedding invitation wording will:
Spell out everything – no abbreviations
Use full names
Use British spellings (favour instead of favor)
Here's an example of our most popular formal wording:
Erin Allison Brady
and
Jacob Kent Burns
together with their parents
request the honour of your presence
at their marriage ceremony
on Saturday, the twenty-sixth of June
two thousand twenty-seven
at two o'clock in the afternoon
Our Lady of Lourdes Catholic Church
3850 Lourdes Drive
Decatur, Illinois
An Example of Informal Wedding Invitation Wording
Casual wedding invitation wording can:
Use abbreviations or modern wording layouts
Don't have to use your full names
Can use fun formatting for your wedding date, year, etc.
Here's an example that falls between being formal and informal:
Together with our families
we invite you
to the wedding of
Erin Brady
and
Jacob Burns
Saturday, June 26th
two thousand and twenty-four
at one o'clock in the afternoon
Our Lady of Lourdes Catholic Church
3850 Lourdes Drive
Decatur, Illinois
And here's some wording that's perfect if you want a more modern look:
Erin
and
Jacob
Request the pleasure of your company
as they are united in marriage
3.14.26
at 1pm
Our Lady of Lourdes Catholic Church
3850 Lourdes Drive
Decatur, Illinois
Formal and Informal Wedding Reception Wording
The wording about your reception may not change much between formal and informal. However, you can have more fun with informal wording!
As far as invitation etiquette is concerned – if you're having a formal wedding, you'll want include a separate reception card. If your wedding is casual, it's perfectly acceptable to add your reception information to the backside of your wedding invitation.
Here's our favorite traditional reception wording:
The pleasure of your company
is requested at the reception
immediately following the ceremony
Decatur Club
158 West Prairie Avenue
Decatur, Illinois
And here's a more casual example:
Let's Celebrate!
Join us for dinner & drinks
after the ceremony
Decatur Club
158 West Prairie Avenue
Decatur, Illinois
Formal and Informal RSVP Wording
Follow your chosen wording style throughout the rest of your wedding invitation ensemble.
RSVP cards are often very simple when it comes to wording but be sure to spell out the month and date for a formal tone.
Going informal? Don't worry about British spellings of words like "favour." Go ahead and use "favor" or different wording all together. If you'd prefer to have your guests RSVP online, that's an option too!
Classic RSVP wording looks like this:
The favour of a reply is requested
before June ninth
M ______________________
__ Will Attend
__ Not Able to Attend
And casual RSVP wording can be a little more fun:
Please reply on or before
June 9th
Name _____________________
__ Can't wait!
__ Can't make it
Check out several more RSVP card wording ideas here!
How to Address Your Invitation Envelopes Formally vs. Informally
You're probably wondering how much can we really change between formal and informal envelope addressing. The biggest difference is seen in the way you address the actual recipient(s). Check out our comprehensive guide to wedding envelope addressing to better understand addressing etiquette.
Classic addressing uses formal names, like this:
Mr. and Mrs. Noah McCarthy
101 Brookdale Avenue
Springfield, IL 62701
Casual addressing can use first names, like this:
Noah and Sara McCarthy
101 Brookdale Ave.
Springfield, IL 62701
There you go – your guide to wording your wedding invitations both formally and informally. If you're left with any questions about wedding stationery etiquette or need help creating your wedding invitations, be sure to reach out to us for help.